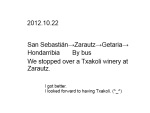 On Oct. 22nd.
That morning, I felt I was a complete new person, he-he. Before leaving from San Sebastián, I walked around and took some pictures.
We were going to visit a Txakoli winery "Talai-Berri" at Zarautz on that very day. I was looking forward to it.
I have to admit I don't like fizzy drink, both alcohol and non-alcohol. But, the previous day, when I had a glass of Txakoli, it was sparkling slightly and dry, so, I liked it. I also saw the performance that was the serving Txakoli from high place for mixing air.
At the Talai-Berri winery, we were tasting all kind of products. They were very good and not expensive. The staff, who was one of owners and introduced their products to us, said "current Txakoli is very well controlled when it is produced, so, it isn't necessary serving from high place". Well, I thought "the yesterday performance is for tourists".
By the way, in Spain they use olive oil for all foods, like we use shōyu(醬油) for all. It was my very first time, to eat cheese poured olive oil, to eat bread poured olive oil, and so on.
We had lunch at Getaria, another one of old cities in Basque, Spain. One of dishes we ate is a big flounder. It was broiled with salt. Very big. A fish per two people. I think it is for four people if I were in Japan.
We checked into the hotel "Parador de Hondarribia" around 4 p.m. The hotel is located on the hill and has a long slope in front of itself. Opposite side is a kind of cliff and there is a public elevator which carries people up.
During this trip, I went for a walk alone in the evening free-time for the first time. I found and bought a doll is a regatta player in Hondarribia (See the slide show at 6:15). Is it cute? They say Regatta is very popular in Spain. In Hondarribia, the house of the player has a green banner on the balcony's rail. On 2012 the team finished second and people bit their lips, I heard.
To be continued. (^_~)