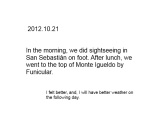 On Oct. 21st.
I was surprised it's still dark even if 8 a.m. Judging calmly, San Sebastián is located north slightly than Sapporo (札幌) according to their latitude, besides, Spain uses DST until the end of October. So, it might be natural.
Unfortunately, 21st was Sunday. City market and most stores were closed except ones for tourists. But, we met other events precisely because Sunday. For example, a citizens' marathon, men at a gastronomical society for preparing a party.
And then, I felt better, went and ate pintxos at bars in my free-time, and enjoyed Txakoli wine and others at meals. So, my trip was also better and better. The better trip, the more photos. So, this slide show is longer than before, too. He-he!
To be continued. (^_~)