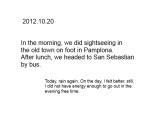 Now on Oct. 20th.
We did sightseeing in the old part of Pamplona which is very famous for "The fiesta of San Fermín", about which even if you don't know, probably you have ever seen the photos of the bull run. We walked the route of the bull run.
Pamplona is one of old cities in Basque, and its old part has the thick and tall walls around itself. One of funny and pity impression I had is I found a built-in candlestick with the wall of an arsenals. A soldier in charge prayed before his entering, in the building there were a lot of gunpowder things, but in those days, he should have had a candle with him because they didn't know safety lamp. Very poor man!!
Pamplona is also famous for the city of Hemingway loved. I saw Cafe IRUNA, Gran Hotel La Perla, etc.
During our sightseeing, all raining. I heard Pamplona usually has a lot of rain. In the rain, I thought a lot of people who live in the city put up their umbrellas. Outside of Japan, I've not ever seen people like this who have an umbrella when it's raining. Besides, some people have a compact folding umbrella and it is first time for me to see a good number of people have such an umbrella outside of Japan. "Seeing is believing." I believe Pamplona usually has a lot of rain. (^_^)
I felt better on the day, but in fact, I think I was still tired because I failed to take a lot of photos. Besides, I had no memory about the afternoon on the bus. (;_;)
To be continued. (^_~)