Update information Edit(Oct.10)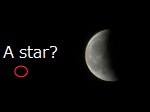 Did you see the total lunar eclipse last night? I almost missed and only took a picture when it looked like a last quarter moon. I can see a star on the image. Is it Uranus? I've checked it up but haven't found out about the solid evidence. Someone, please tell me it's so or not.

Now, I'll write the story about the title.

I tried a Puppy Linux (Precise-571JP) to use as a SHOUTcast server on a LOOX T93B. To talk about conclusions, I gave it up. I installed a Puppy Linux after a long interval. The last time I used a puppy whose version was 5.01 and English. At this time, I was very glad Precise-571JP is very easy to use. I think Puppy is one of good linux distributions. It is very light and doesn't require high specs, nonetheless, the LOOX has too low specs.

Actually, though I could run a Shoutcast server and broadcast streams, I could never fix jumpiness even after stopping several services of Puppy's default.

If you want to use Precise-571 as a mobile OS in a USB flash drive, I think it is very good.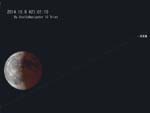 Edit(Oct.10):
Ooops! I understood that the star above was not Uranus. I checked it up by StellaNavigator 10. It's an amazing software though I used a trial version.