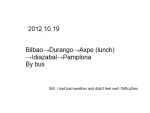 On Oct.19, I got up at 7:00a.m. Of course, it's local time in Spain. We left the hotel at 9:00. Again, we had rain like Japanese rainy season. First, our tour bus stopped over Durango, Biscay. We did sightseeing in the old area of the city, we saw "Iglesia de Santa María de Uribarri", "Kurutziaga Cross", etc.
We had lunch at a tiny good restaurant "Akebaso". Two dogs were there, so cute.
After lunch, we visited a cheese factory in Idiazábal. Others bought a lot of cheese and I also did a block of it. The cheese was very very tasty.
The hotel of the day was in Pamplona. I was still tired when I checked into it. So I went to bed earlier than usual and slept all night.
To be continued. (^_~)