first thing in the morning, i called 08-8213-4592 by my cellular phone.
the person in charge told me the starting time of the train not to change, to come the east perth station by one hour before, and the carry-on luggage is 20 kg to each.
as i looked for something to need, i went to the nearest convenience store. but they didn't have. they told that i would find out it at downtown, so i checked out around 9 o'clock and headed to downtown.
i found the information center, and i had an information for that. i went around the city central while my companion waiting at the information center. at last i could buy it. but it took for a long time.
though companion and i went to the perth central station and wanted to head to the east perth station by train, we found the next leaving from here at 11:00 a.m. so, we changed our mind and took a taxi.
at the east perth station, we made to board on the indian pacific. while we waited to the departure time, we took some pictures: the old train, the wall relief that is a model of steam locomotive, the train we were bording on, and so on.
the train was leaving the east perth just on time. after we got on, we were served lunch at once. the married couple we shared a table with were 77 year-old husband and 73 year-old wife. i heard they were returning to sydney.
i was not able to understand the announcement on the train as ever. i got in a bind about this.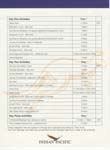 at 8:00 p.m., we had dinner. at this time the married couple we shared a table with were around 50's. they had been to japan by yacht, and stayed there for a few years in around 2003. they asked us to join or not the night tour at kalgoorlie. i said we were not going to this because of being very tired but we were going to attend the other whistle stop tours.
we went to bed around 10:00 p.m. early. upper sleeping berth for me, lower for companion.