Update information Edit Edit2(Jan.25) Edit3:(Jan.26) Edit4(Jan.27)
We have a heavy snow in my town. About 15cm deep around 8am and about 20cm deep around 10am. 0:22pm now, still snowing.
Around 10am
| | | |
| --- | --- | --- |
| 8:52am | 8:53am | 8:53am |
| 10:15am | 10:15am | 10:16am |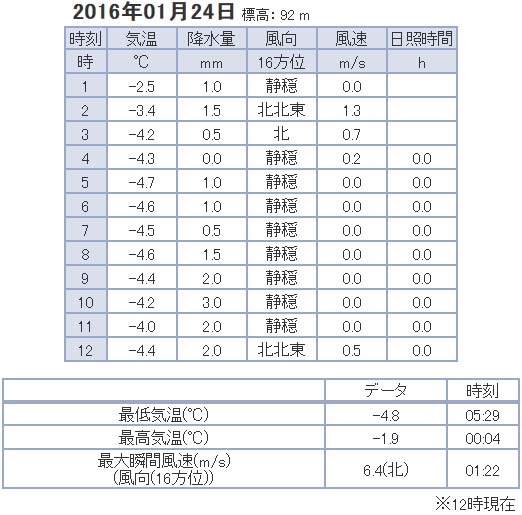 Edit:
About 25cm deep around 2pm. 3:40pm now, still snowing.
Edit2(Jan.25):
Yesterday about 26cm deep around 5pm. Less increasing than I expected. Maybe the snow had been entered a lull from 2pm to 4pm.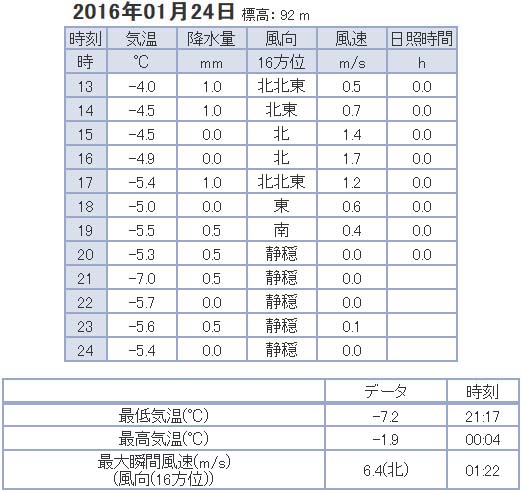 This morning, it's snowing again.

Around 7:30am
You can see the temperature around 7:30am on the right image. The depth has decreased a little than yesterday's. About 17cm. I feel the snow was compacted. Icicles have formed under the eaves that are just above the living room. I think the living room is warmer then any other part of the house.
Just now(9:30am), the sun shines in.
Edit3(Jan.26):
This morning a half of the snow was melting. About 8cm around 11am. We've had almost no snowfall since yesterday afternoon. Today, it will rain instead of snow if a day with precipitation. I took pictures of the same places as before.
We have been having water outage since yesterday 10pm. Still now I don't hear when water supply recovers fully. But I have an old well in my garden and its water is drinkable, so I don't have big problem though water drawing labor is a tough job. I guess others in my town are in trouble.
Edit4(Jan.27):
The water outage ended. After all, it was only from 10pm of the day before yesterday to 11am of yesterday. I really appreciated the job of Water Supply Division in my town. Thanks a lot, the people in charge!!