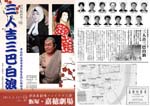 Today, I saw the kabuki play "Sannin Kichisa Tomoe no Shiranami(三人吉三巴白浪)" at Kaho Gekijō(嘉穂劇場), which is one of traditonal Japanese theaters in existence.
Nowadays, the theaters in Japan have chairs. But the old theaters in Japan had no chairs, and the audience sat on the floor with cushions(座布団). And they had Hanamichi(花道) and Suppon(スッポン), etc. Kaho Gekijō(嘉穂劇場) still has such styles.
The play started at 13:30 and ended at around 16:30. It took almost 3 hours and was a full-length play(通し狂言). But, I did not feel too long. I've ever heard the original scripts was very longer than the play in today.
The story is very complicated. If you have curiosity, please read this. (´∀`)