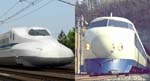 Until Sep. 30, a program 'らいじんぐ産' was brought by NHK(日本放送協会). The program name 'らいじんぐ産' is a kind of puns. The pronunciation of 'らいじんぐ産' is similar to 'rising sun'. On the other hand, the meaning of character '産' is 'bear' or 'be born'. When we use the word '産業', it means 'industry' in English. So, 'らいじんぐ産' means 'rising sun' and 'rising industry', I think.
By the way, last two episodes of this were about 'Shinkansen (新幹線)'. It cast my memory back to 'Hikari (ひかり)' and old 'Blue Train'.
The first Tokaido Shinkansen train 'Hikari' traveled from Tokyo (東京) to Shin-Osaka (新大阪) on 1 October of 1964 at 210 km/h (130.5 mph). But my memory of Hikari isn't between Tokyo (東京) and Shin-Osaka (新大阪) but between Tokyo (東京) and Hakata (博多). When the Okayama (岡山) to Hakata (博多) part opened on March 10 of 1975, I started to use 'Hikari' for coming home. At first, I took a 'Hikari' with excitement. But, as it took about 7 hours and was only possible during daylight travel, it was too boring and too wasting time for me. Because, at that time I was not a visitor for expecting Japan's scenery but a student for returning home quickly.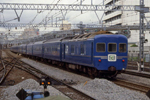 Until the part opening, for coming home I used Blue Train, its name maybe 'Hayabusa (はやぶさ)'. Hayabusa was used the name as our unmanned spacecraft and this is still a fresh memory.
Blue train was an overnight sleeper train and traveled from Tokyo to Nishi-Kagoshima (西鹿児島). Though I was stuck on Hayabusa all day long because of a typhoon, usually it delivered me to Hakata while my sleep. So, it was very convenient for me. Moreover, Hikari was more expensive than Hayabusa. :-p A plane was not in the options because of much expensive.
Around to start working, Blue Train services was reduced and newbie's vacation length was very short in Japan, I couldn't get a ticket of Hayabusa for my returning home anymore, so I had no alternative but to use Hikari. Now, if I go to Tokyo, I will take an plane.
But I still love old Blue Train and my good old days. 🙂