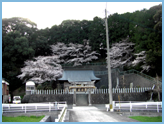 This year's cherry blossoms have become in full bloom on this weekend. There is very very small lovely shrine I haven't noticed on my way home to or from work. Today, the cherry blossoms in full bloom color the small shrine in white-pink light.
Nowadays, cherry blossoms for us, it is Someiyoshino(染井吉野) obviously. But it's taken only 150 years since its appearance. We haven't a lot of old trees of Someiyoshino. It makes all areas white-pink because flowers become full-bloomed before leaves go out. They look like haze by a distant view.
In general, the smell of cherry blossoms is weak. It is a big difference between them and Japanese plum blossoms that are not distinguished easily from a distance. Personally, I prefer Japanese plum blossoms. That smell is comfortable for me.
However, the utility pole in this picture is terrible and obstructive. ;-}