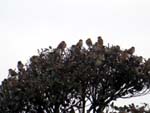 Yesterday, I saw a pretty flock of sparrows. Nowadays this is very rare in my town though I often saw flocks of sparrows in the rice fields when I was a child. I think the opportunities to see sparrows are decreased despite they were very popular birds and we have a lot of folktales of them. I took a picture of them.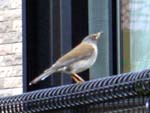 Today I saw the bird on the left image. I think this is Shirohara. Am I correct?

By the way, I updated some server software on my Web server yesterday (The server OS is Win7 HP SP1 x86).