Update information Edit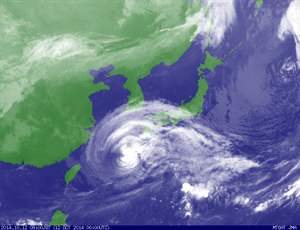 I got it from TV flash that Vongfong moved onshore near Makurazaki around 8:30JST.
I've put up shutters since last night and been stuck in the house. We have Storm warning, Heavy rain Advisory, Flood Advisory and Thunderstorm Advisory in my town and others. Though I heard the wind roar at midnight, now very calm and almost no rain. Is it the calm before the storm?
As the path of the typhoon moved just to the south compared with its anticipated course, my town will be less affected. But its speed is getting a little faster (around 30 km/h).
Hey Vongfong! Won't you pass us over soon?
Edit:
I've opened the shutters just now (Just after 14:00JST). I usually open them except when typhoons coming.
"Parturiunt montes, nascitur ridiculus mus." This is one of those things this year. But no disasters are grateful for us. "A natural disaster strikes when people lose their memory of the previous one." So, do not neglect our duty!
And, Vongfong still has power. Keep to prepare for it, guys!