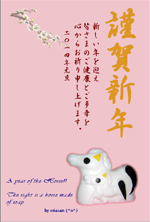 Happy New Year! It is the beginning of a new year.
This is a year of Uma, according to the Oriental Zodiac.
We call 'uma' 'horse' in English. I like to see and to ride a horse. Unfortunately, I don't have a chance to ride a horse last decade. Someday again, I want to ride it.
I wish you guys Happy New Year.
Gods bless you, guys!