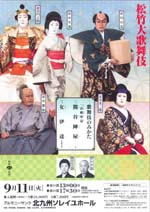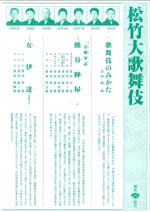 Yesterday, I saw the play "Kumagai Jin'ya(熊谷陣屋)" at Kitakyūshū Soleil Hall. At the same time, they staged the Dance "Onna date(女伊達)". I think this is first time for the hall having a kabuki play. I am not a kabuki crazy, but like to watch it. This program I have not seen before.
When the show began, I confused this with "Terakoya(寺子屋)". They have the same theme, I think. These stories I don't like very much. I feel they are very tragic and cruel. The show was held as a weekday matinee performance, perhaps for that reason, the hall had plenty of room. The audience was a quarter of full house.
The performance was acceptable for me. But the dance was not good. The main dancer, actually he is one of my favorite kabuki actors, danced without feeling. Was I the only person there who had such feeling? SIGH!!
Edit(Sep.28):
I mistook Terakoya(寺子屋) for Kurumabiki(車引). Today, I've fixed it. Sorry!