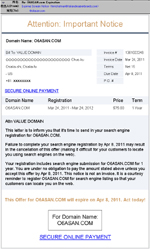 Yesterday, I got an email like the figure right. Turned letters are my WhoIs information, so everybody can know it. This mail, well, is doubtfully-looking.
I googled by its domain name italiandesignerbrands.com and found some, SPAM Bills?, italiandesignerbrands.com – Italian Designer Brands, and so on. Especially, I took an interested in the description of "DomainTools" indeed.
The mail has two links, 'SECURE ONLINE PAYMENT —> http://registrationdom.com/order/BoSgRQMWamy7EfIZaoK4LA%3D%3D', and, 'Click here to unsubscribe —> http://registrationdom.com/unsubscribe/RKmgXMd2HqG7EfIZaoK4LA%3D%3D'. When googling by registrationdom.com, I found Japanese site, サーチエンジン・レジストレーション?詐欺?

By the way, this mail isn't so doubtful? Does someone to pay by this instruction exist? Well, if you click the links, you might encounter "Keylogger" or "Password Stealer", even if you don't pay some money, I guess.