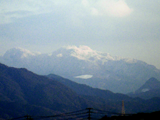 We had a lot of snow in the afternoon on 10th of March. But it disappeared by next afternoon because it was the spring snow.
However, Mt.Hiko was still covered with snow at that time. It is very suitable for it because it has been worshiped as a divine mountain since long long ago.
I'd like to take its picture covered with snow for a long time. Though it's very difficult for me, I challenged it on 11th of March on my way home.
I'll show you it. How do you think? Nice or not?