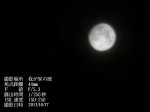 Hi, guys!! Tonight, we have another "Otsukimi". We call it "Nochi no tsuki (後の月)", and hold it at the night of September 13 by our old calendar (旧暦). But, this event gets very old-fashioned than "中秋の名月" on August 15.
I saw a beautiful moon at that night. However, today cloudy. I was waiting, waiting and waiting. Finally, I was able to take a picture of the moon which broke through the clouds. Still, it was covered with thin clouds though.
Every year, I want to achieve that I see the both moon on August 15 and September 13, but I can seldom do it. This year, can I say I saw the both moon? I wonder.